Military Backpack Buyer's Guide
Buying a
military backpack
isn't easy, though. It's important to choose an option that matches your needs. There's no point buying a heavy, high-volume backpack if you're never going to fill it – or if you don't have the strength to carry it when full. And choosing a bag without the right size compartments for essential items is likely to cause frustration.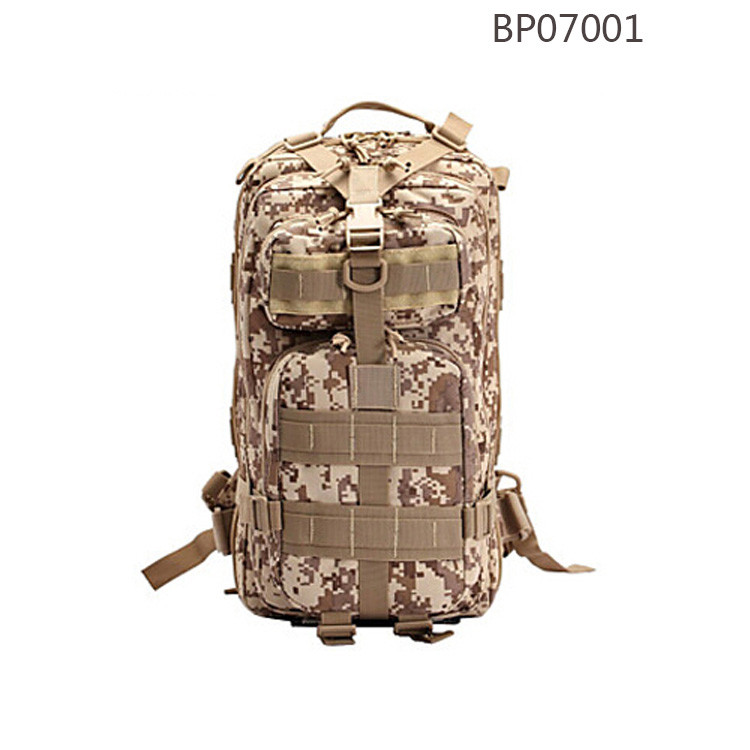 Comfort
The best tactical backpacks are built for heavy usage – but that doesn't mean they shouldn't be comfortable. In fact, when you're on a hike or other long trip, it's vital that a bag is comfortable to carry.
How can you tell whether a bag is going to be comfortable? The easiest way is to look at online reviews. These people have bought and used the product, so know better than anyone how comfortable it is. Also, look for hip padding and straps, as these make it easier to carry a bag for long distances. Other things to look for include wide straps and air channels.
The downside is that more comfortable bags are usually expensive. It nearly always makes sense to spend more for additional comfort though.
Capacity
The capacity of a backpack affects how much gear you can carry. The space available also partly depends on the number and shape of compartments.
With that said, bigger isn't always better when it comes to finding the best tactical backpack. The more volume a bag has, the heavier it'll be when full. You need to consider how much volume you really want to carry with you. This depends on the length of your average trip and type of activity (read our EDC backpack buyer's guide).
As a general rule, 30 liter backpacks are acceptable for day trips. If you're going to use the bag for multiple nights, choose a backpack with a minimum capacity of 40 liters.
Compartments
Your rucksack needs to meet your personal requirements. Think carefully about the type of items you need to carry and choose compartments to match this gear. It's also a good idea to buy a backpack with multiple compartments of different sizes. This makes it easier to organize your gear and access it quickly.
Material and Durability
The material affects a backpack's durability and strength. Each material has advantages and disadvantages, making them suitable for different purposes. Some of the most common materials include:
Nylon. Nylon is incredibly strong and makes for a durable backpack. It also dries quickly.
Rip-Stop Nylon. Rip-stop is created by weaving extra-large threads into traditional nylon. It's even stronger than nylon, and has quickly become a popular choice for those needing a sturdy rucksack.
Polyester. Polyester isn't as strong as nylon and also takes longer to dry. An advantage of polyester is that it's more UV resistant than Nylon.
Canvas. Those old-fashioned backpacks you see in films were made from canvas. While the material isn't new, it's still highly durable. The downside is that it's relatively heavy.
Other Considerations
Color. The color of a backpack is mostly personal preference – especially if you're hiking or taking part in other activities. Many people prefer military-style camouflage, but there are a range of colors available. The exception is if you're buying a "bug out" rucksack. These bags shouldn't have a camouflage color scheme, as this could alert people that you are prepared and may be carrying supplies.
Additional features. Some products come with additional features such as a rain hood or foam back panel. These can be useful – especially for long trips. Hydration systems are particularly valuable, as they make it easy to carry enough water.
Loading Design. Backpacks can either be front or top loading. Front loaders are the most common, and make it easy to access all your items. Top loaders are often used for long trips. They are light and have fewer compartments – but usually make it more difficult to organize your gear.
Budget. Your budget is always a factor, but it's much more important to get a high-quality rucksack that meets your requirements than to save money.
Not only that, but the compartments make it straightforward to organize your gear in one place. If you find yourself in a dangerous or time-sensitive situation, you simply don't have time to deal with more than one bag. Military bags organize all of your gear in a way that's easy to access when you need it most.

Tel:

86-0592-5727369
86-13779965111
Email:
Address:

Room 405B,Sanfu Wealth Build.NO.990-992,Anling Road,Xiamen